New Patients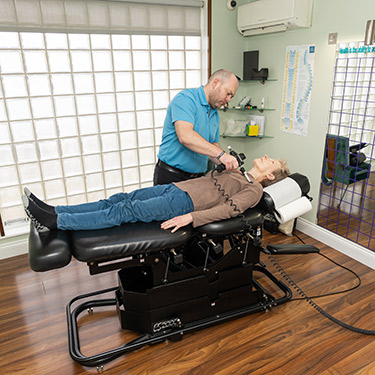 Romford and Ilford Family Chiropractic is a laid-back place where you'll feel instantly relaxed. Calm music plays in the background while aromatherapy diffuses, creating a mellow, comfortable tone. In each care room, you can select the music that you'd like to listen to.
Please print and fill out the new patient forms. Bring them to your first appointment along with a pair of shorts and a sports top or T-shirt, which makes your examination easier.
Getting to Know You
When you meet Dr Faulkner, D.C., he wants to know all about you. We go beyond your pain to learn about your passions, hobbies and family. Your history and concerns are also thoroughly discussed.
Then, we'll do a specific, custom examination that's made just for you. We may take digital X-rays and posture scans. Your first visit takes about 30 minutes.
Following Up
When you return, Dr Faulkner will detail his findings from your examinations. He'll answer the important questions you have:
What's wrong with me?
Can you help me?
How long will it take?
How much does it cost?
What can I do to help myself?
Note that not every patient is accepted. If we feel that we cannot help you, we'll refer you to another practitioner. If you are ready to move forward after your report of findings, you'll be adjusted. Then, you'll see our posture technician for any additional therapies you require. We'll also go over any recommendations we have for you to do at home which will help your healing. The follow-up appointment will typically take 30 minutes.
Our Five Phases of Care
You always have options at Romford and Ilford Family Chiropractic. There are three phases of care for you to choose from: relief, correction, strengthening, supportive/maintenance and wellness care. If you choose to simply get out of pain, we'll support you. We do, however, encourage you to go beyond discomfort and reach true wellness.
We have same-day visits available. Contact Romford and Ilford Family Chiropractic now!
CONTACT US »

New Patients | 0208 2521010